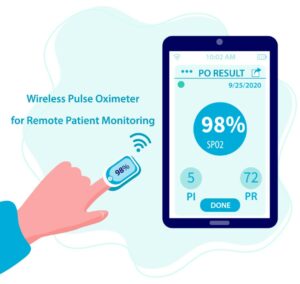 While the benefits of remote patient monitoring have been known for years, the COVID-19 pandemic has brought many of them back into focus. As the landscape of healthcare continues to change and evolve, remote monitoring promises to deliver advantages to both providers and patients. Post pandemic we have realized the importance of such groundbreaking initiatives, which help patients learn more about their conditions and stay adherent to their treatments. Therefore, we have launched our own remote monitoring program with tools to better serve our patients.
According to the American Hospital Association, one of the major socioeconomic hurdles holding people back from seeking care is transportation. They report, 3.6 million people in the US do not obtain medical care due to transportation barriers. Transportation issues include lack of access to vehicles, broken infrastructure, long distances, and lengthy times to reach services, as well as transportation costs.
Remote patient monitoring (RPM), the wave of the medical future, include devices that allow providers to monitor, report, and analyze their patient's acute or chronic conditions from outside the hospital or clinic setting. They enable real-time understanding of a patient's disease state, enabling the provider to make proactive clinical decisions.
According to Steven Santiago, M.D., Chief Medical Officer, "remote patient monitoring devices help patients engage with and better understand their daily health. When a patient is engaging with their health daily through RPM devices, they are more likely to see lasting positive health outcomes."
Besides alleviating the transportation dilemma, remote patient monitoring:
Reduces the risk of disease transmission

Frees up limited medical resources

Gives providers access to better patient data

Improves patient outcomes

Allows patients to become a more active member of their care team

Helps to save money

Can be used to track patients' health over the long term

Improves patient-provider communication
John Sheridan, Registered Nurse of Special Projects, says, "Our kit includes a scale, blood pressure machine, a glucometer, tablet and a pulse oximeter. These devices are Bluetooth paired with the tablet and sync automatically to a portal, which the providers utilize during business hours to monitor patient progress. This program will increase patient knowledge of such conditions and increase adherence to treatment, while simultaneously decreasing hospital admission/readmissions."
About Care Resource:
Care Resource is a 501(c) (3) nonprofit organization and a Federally Qualified Health Center (FQHC) with four locations in Midtown Miami, Little Havana, Miami Beach, and Fort Lauderdale. The health center provides comprehensive health and support services to address the full health care needs of South Florida's pediatric, adolescent, and adult populations. For more information, visit careresource.org.