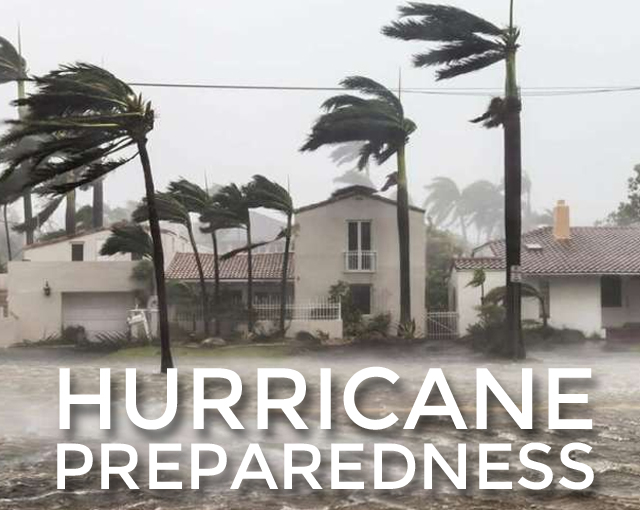 ​As you continue to take precautions to keep safe from the coronavirus (COVID-19) pandemic, it is important to stay prepared for other disasters. Hurricane season begins on June 1, and the time to prepare is now. Care Resource has a special responsibility to prepare and serve the community to the best of its ability following any storm that affects our South Florida area.
Should services ever be affected, updates will be posted on our website and social media sites. If our area is under a hurricane watch or advisory, always follow any precautionary measures determined by county officials. Remember that prevention is key when facing emergencies. We encourage you to take any measure necessary to guarantee your well-being.
The following are cautionary measures to take so that you are further prepared.
Make sure to have ample supplies for your household, including disinfectant supplies, Masks, pet supplies and medications as well as important medical documents (insurance card, medical records, etc.)

Update your contact information with the agency as well as your emergency contacts.

Contact your case manager and/or therapist regarding social services issues or needs.

If you or anyone in your household is an individual with a disability, identify if you may need additional help during an emergency. (for more information visit www.ready.gov/disability)

Seek medical attention in case of an emergency. Notify your primary care physician (PCP) of any medical emergencies.

If a foreseen event is identified, contact the agency to obtain information about possible office closures and emergency procedures.

Keep your cell phone charged when you know a hurricane is in the forecast and purchase backup charging devices to power electronics.

Ensure there is adequate water and food available that does not have to be cooked.

Gas up vehicles and propane stoves today or tomorrow. Make sure you have batteries. If your medications are getting low, refill them.

Have some cash on hand, small bills and coins in case credit card systems don't work.

Review insurance coverage. It may be too late to get new insurance but existing policies can usually be modified and say a wind damage waiver added.
Should you experience an immediate emergency – please call 911. For any other storm-related assistance call the Florida Emergency Information Line at 1-800-342-3557 or 311. For updates about the health center's office hours following any major storm, please dial the health center at 305-576-1234.
Additional resources: