Trans Collaborative Conference, Aug 8, 9am-2pm at CIC Miami, 1951 NW 7th Avenue, Miami. FL. 33136
Hunters Nightclub, Aug 12, 6-10pm at 2232 Wilton Dr, Wilton Manors, FL 33305
Sunshine Cathedral, Aug 14, 9am-2pm at 1480 SW 9th Avenue, Fort Lauderdale, FL. 33315
Juan Pablo Duarte Park, Aug 19, 1pm-3pm at 1776 NW 28th Street, Miami, FL. 33142
Nathan's Bar, Aug 22, 7pm-11pm at 1216 Washington Avenue, Miami Beach. FL. 33139
Rosie's Bar and Grill,  Aug 21 & 28, 11am-3pm at 2449 Wilton Dr., Wilton Manors, FL 33305
One Step Closer to Health Equity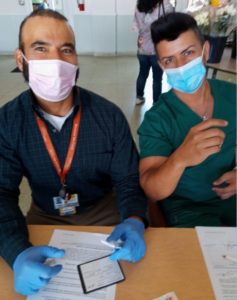 Throughout the month of August, Care Resource and an array of community partners including Sunshine Cathedral, Nathan's Bar, Rosie's Bar and Grill, Trans Collaborative Conference, and the YMCA are coming together to further expand access to COVID-19 vaccinations throughout South Florida.
In addition to offering WALK-IN vaccinations at all our health center locations, Care Resource will be at these locations above to administer the Pfizer (available for those 5+ and up) and Johnson & Johnson vaccines (available for those 18+ and up).
There is no-cost and no out-of-pocket expense to receive a vaccine. For more information on receiving your vaccinations, please click here.
According to Reverend Dr. Durrell Watkins of Sunshine Cathedral, "COVID-19 highlights how truly interdependent we all are and how reliant we are on cooperation and compassion to successfully defeat the virus. This collaboration with Care Resource on August 14 at Sunshine Cathedral is an opportunity for our South Florida community to further increase our resilience and help ensure that everybody is safe if we are to recover better together."
Care Resource is committed to providing the COVID-19 vaccine to as many members of our communities as possible as quickly and safely as possible. May this effort help lead toward that long-awaited moment of joining back together, safely and joyfully.