Delivering the Tradition of Support this Summer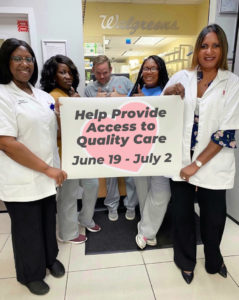 MIAMI, FL. – For two weeks beginning on June 19 and ending July 2, select Walgreens locations in Miami-Dade County are delivering the tradition of support for their local community.
Dedicated to championing everyone's right to be happy and healthy, Walgreens is raising funds for Care Resource through their Community Care's campaign. At checkout, shoppers will be asked to donate $1, $3 or $5 to support Care Resource. Please make sure to tell all your friends and family to support Care Resource by making a donation when they visit a participating Walgreens – a quick and easy way to support YOUR Medical home for all those most in need.
Thank you Walgreens for your commitment in supporting the educational and medical programs of Care Resource, for assisting in combating the effects of HIV/AIDS and for helping to expand access to affordable and quality healthcare to South Florida's communities.
ABOUT CARE RESOURCE
Care Resource is a 501(c) (3) nonprofit organization and a Federally Qualified Health Center (FQHC) with locations in Midtown Miami, Little Havana, Miami Beach, and Fort Lauderdale. The health center provides comprehensive health and support services to address the full healthcare needs of South Florida's pediatric, adolescent, and adult populations.