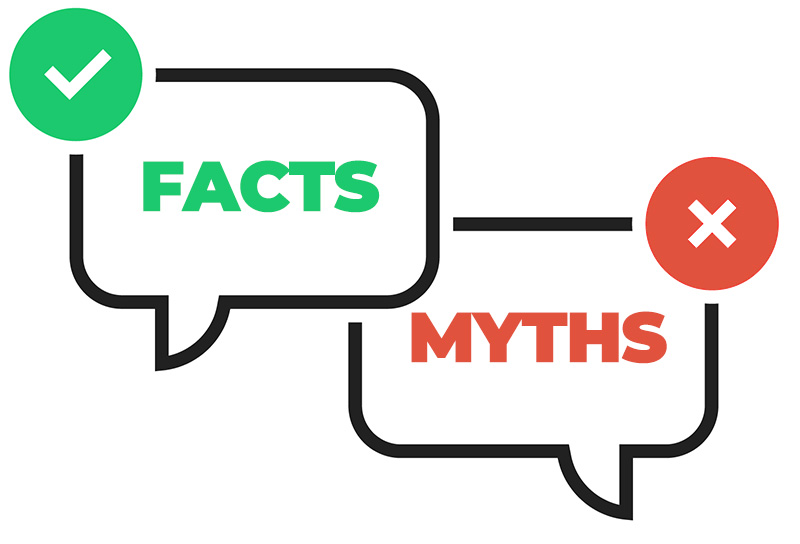 According to the CDC, An estimated 1,189,700 people in the United States had HIV at the end of 2019. In that same year, it was reported that 36,801 people received an HIV diagnosis in the United States and dependent areas.
There are many myths and misconceptions about HIV. As medical experts in HIV and AIDS, we are here to debunk those myths and give you the facts about HIV.
Myth #1: HIV is a death sentence.
In the early years of the HIV epidemic, the death rate from AIDS was extremely high. But today, Advances in antiretroviral therapy have made it possible for individuals with HIV to live as long as individuals without HIV. With proper treatment, individuals with HIV or even AIDS to live much longer, normal, and productive lives. If drug treatment is started right away and taken correctly, it is possible that HIV won't develop into AIDS. It is important to live a healthy lifestyle and to talk to your doctor about any other health problems you may have.
Myth #2: You can get HIV from touching someone with HIV.
HIV isn't spread through touch, tears, sweat, saliva, or pee. That means you cannot get it by:
Breathing the same air
Drinking from a water fountain
Hugging, kissing, or shaking hands
Sharing eating utensils
Using exercise equipment at the gym
You can get it from infected blood, semen, vaginal fluid, or breast milk.
Myth #3: It's easy to tell the symptoms of HIV
The symptoms of HIV can differ from person to person. Some people may not show symptoms of an HIV infection even though they are infected. Early detection is important because, without treatment, the virus will get worse over time and damage your immune system over time.
There are three stages of infection with different possible side effects. You cannot tell by looking at someone whether they have HIV or not. Many individuals don't show any signs of symptoms so they might not even know that they have HIV.
Myth #4: People with HIV can't safely have children.
Women living with HIV should work with their healthcare provider to begin Antiretroviral therapy as soon as possible. According to the CDC, if a woman takes her HIV medicine daily as recommended by a healthcare provider throughout her entire pregnancy (including labor and delivery), and continues medicine for her baby for 4 to 6 weeks after birth, the risk of transmitting HIV to the baby can be as low as 1% or less.
There are also ways for a mother who has HIV to lower the risk of transmission in the event that the HIV viral load is higher than desired, such as choosing a C-section or bottle feeding with formula after birth.
Women who are HIV negative but are looking to conceive with a male partner who carries the HIV virus may also be able to take special medication to help lower the risk of transmission to both them and their babies. For males who have HIV and are taking their ART medication, the risk of transmission is virtually zero if the viral load is undetectable.
Myth #5: Taking PrEP eliminates the need for a condom.
PrEP (pre-exposure prophylaxis) is a medication that can prevent HIV infection if taken daily. Although PrEP can prevent HIV infection, it does not protect against other sexually transmitted diseases or infections. PrEP should be used in conjunction with safer sex practices.
Myth #6: Mosquitos can transmit HIV.
Mosquitos cannot transmit HIV because they do not inject blood when they bite. Furthermore, HIV cannot survive in mosquitos and insects due to the different genetic makeup compared with human DNA.
Care Resource is committed to providing quality medical care, linkage, and treatment to all those who are under-resourced and face barriers to care. We continue to provide no-cost at-home HIV tests and rapid, no-cost HIV testing services to ensure that community members in Miami-Dade and Broward counties have access to prevention services. Additionally, we continue to provide PrEP (pre-exposure prophylaxis) for HIV prevention and PEP (post-exposure prophylaxis) for treatment after a high-risk encounter.
We encourage community members to get tested for HIV, know their status, and seek prevention and treatment options that can work for them. No one should delay their entry into quality HIV care.
Through education, prevention, research, care, treatment, and support services, Care Resource improves upon the health and overall quality of life of our diverse South Florida communities in need.
References:
Centers for Disease Control and Prevention. (2020, October 28). HIV transmission. Centers for Disease Control and Prevention. Retrieved October 21, 2021, from https://www.cdc.gov/hiv/basics/transmission.html.
Myths about HIV and AIDS. Avert. (2021, February 24). Retrieved October 18, 2021, from https://www.avert.org/hiv-transmission-prevention/myths.
Nall, MSN, CRNA, R. (2020, September 24). Myths about HIV and AIDS: Transmission and misconceptions. Medical News Today. Retrieved October 19, 2021, from https://www.medicalnewstoday.com/articles/323832.
Pathak, MD, N. (2021, January 8). HIV and AIDS myths, misconceptions, rumors. WebMD. Retrieved October 18, 2021, from https://www.webmd.com/hiv-aids/top-10-myths-misconceptions-about-hiv-aids.
Schaefer, A. (2020, April 24). 9 myths about HIV/AIDS. Healthline. Retrieved October 19, 2021, from https://www.healthline.com/health/hiv-aids/misconceptions-about-hiv-aids.