Miami, FL, November 2023 – Care Resource Community Health Centers, Inc. was recognized by The U.S. Department of Health and Human Services (HHS), through the Health Resources and Services Administration (HRSA), and awarded the 2023 Gold Health Center Quality Leader badge. This positions Care Resource in the top 10% of health centers across the nation. These digital badges are part of the Community Health Quality Recognition (CHQR) badge program, honoring health centers that have achieved the best overall clinical quality performance.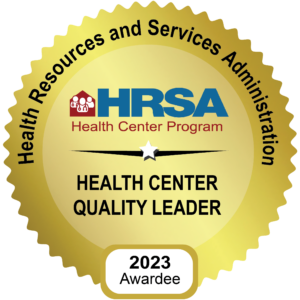 The CHQR badge program recognizes outstanding performance in various clinical areas, from behavioral health and heart health to HIV prevention and care, as well as overall quality performance. In fact, Care Resource was additionally recognized in the top 1% of all health centers nationwide as a National Quality Leader in HIV Care & Prevention.
Care Resource, originally established to address the HIV epidemic in South Florida, has evolved over the past four decades into a comprehensive healthcare provider that serves a diverse patient population. Today, as a Federally Qualified Health Center, Care Resource offers a wide range of accessible and affordable medical services, preventive care, and support for patients of all ages, providing holistic care and addressing the healthcare needs of the community.
Dr. Steven Santiago, Chief Medical Officer at Care Resource, explains, "Our success at Care Resource is a result of several key factors that have set us apart. One of our defining characteristics is our comprehensive and integrated care model. We place a strong emphasis on holistic healthcare, considering not only the physical but also the mental and social aspects of our patients' well-being. This approach has played a pivotal role in ensuring high patient satisfaction and exceptional healthcare outcomes."
Building trust with patients is a cornerstone of Care Resource's approach to high-quality healthcare. The health center prioritizes cultural sensitivity and empathy as integral components of its patient-centered approach, understanding the diverse backgrounds and experiences of its patients.
Dr. Sheryl Zayas, Medical Director at Care Resource, emphasizes, "Patient care is our utmost priority. We believe that involving patients in their care decisions is essential. Our team engages patients in their treatment plans, making them active participants in their health journey. In addition, our commitment to providing culturally sensitive care and addressing the unique healthcare needs of our diverse patient population has been instrumental in achieving top-tier outcomes."
Care Resource was also the recipient of two additional 2023 CHQR badges. The Advancing Health Information Technology (HIT) for Quality badge, is awarded to those health centers that offer services such as telehealth and engage patients through health IT. As well as, the Access Enhancer badge, which requires a health center to improve its clinical quality measures and increase patients receiving services for mental health, substance use disorder, vision, dental, or enabling services.
About Care Resource:
Care Resource is a 501(c) (3) nonprofit organization and a Federally Qualified Health Center (FQHC) with four locations in Midtown Miami, Little Havana, Miami Beach, and Fort Lauderdale. The health center provides comprehensive health and support services to address the full healthcare needs of South Florida's pediatric, adolescent, and adult populations.