Tackling Broward's Opioid Crisis and HIV Epidemic: The SPOT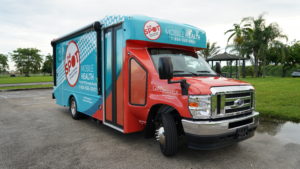 Broward County has one of the highest rates of opioid overdose deaths and new HIV infections in Florida. In response to these epidemics and to further extend vital health services into the community, Care Resource established The Special Purpose Outreach Team (The SPOT) Mobile Medical Clinic.
The SPOT (Special Purpose Outreach Team) mobile medical clinic is the only Syringe Services Program (SSP) approved by Broward County and authorized under the Florida Infectious Disease Elimination Act (IDEA). Validated by the CDC, SSPs take used needles off the streets and prevent overdoses by providing education, medical care, and linkage to substance use disorder treatment programs.
Services Offered:
Safe Syringe Exchange Program
Naloxone distribution (overdose reversal medication)
COVID Vaccinations
HIV, HCV, STI, and infectious disease screenings
Phlebotomy and laboratory services
On-site or telehealth services
Social services, behavioral health, and medical services, including wound care, hepatitis vaccination, and PrEP (pre-exposure prophylaxis) and more.
Referrals for specialized care
SSPs are a catalyst to encouraging users to begin recovery—someone who takes part in an SSP is five times more likely to enter a treatment program. We link those ready for care, based on their level of need, to community partners or to our comprehensive outpatient services like our Medication-Assisted Treatment (MAT) program.
The SPOT focuses on areas of the county that lack ready access to health-quality and affordable healthcare and support services. It is dedicated to ending health disparities in historically underserved communities.
The SPOT relies largely upon grants and private donations due to the limited and restrictive SSP funding available from the government.
Donations to The SPOT Fund offset the cost of new syringes, support educational and outreach materials, and the operations of our mobile clinic. Learn more at: TheSpotBroward.org