Our Commitment to Substance Use Recovery and Risk Reduction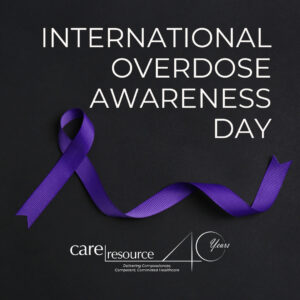 Every year on August 31, International Overdose Awareness Day serves as a poignant reminder of the devastating impact of drug overdose. In 2021 alone, Florida had over 7,827 deaths due to drug-induced overdoses. Per the CDC Florida ranked second in overall number of deaths per 1000,000 total population*.
Overdose deaths continue to be a pressing public health crisis, affecting individuals and families across the world. This day offers an opportunity to shed light on the importance of prevention, education, and support for those struggling with substance use.
As we remember those who have been lost, we also acknowledge the vital need for action. International Overdose Awareness Day encourages open conversations about substance use, destigmatizing addiction, and promoting access to treatment and recovery resources.
Emelina Martinez, Safe Syringe Exchange Services Manager at The SPOT™ states,
"At Care Resource we work with those living with substance use disorder at every point of service, with peer members on staff we can guide clients through behavioral health and medical services. We also provide Narcan to our clients and any member of the community who needs it."
Our behavioral health and substance use counseling plays a crucial role in addressing this issue. Offering services such as behavioral health counseling, risk reduction support, and medication-assisted treatment, they extend a helping hand to those on the path to recovery.
As we observe International Overdose Awareness Day, let's unite in honoring the lives lost, supporting individuals in recovery, and advocating for comprehensive strategies to prevent overdose. By coming together as a community, we can make strides toward a future where overdose-related tragedies are minimized, and individuals receive the care and understanding they need.
Behavioral Health and Substance Use Counseling
Our compassionate and qualified team provides individual, couple, group, and family therapy to address the complex challenges of substance use. Regardless of insurance coverage, we offer accessible services, ensuring that everyone has access to the care they deserve. Some of our services are even available free of charge. Call to see if you qualify. Learn More
Support Groups
We also proudly offer various online support groups and individual counseling sessions. These spaces provide a nurturing environment for individuals to share their experiences, challenges, and triumphs. Our support groups are open to all, and there is no cost to participate. By fostering a sense of community, we help individuals realize they are not alone on their journey to recovery. Learn More
About Care Resource:
Care Resource is a 501(c) (3) nonprofit organization and a Federally Qualified Health Center (FQHC) with four locations in Midtown Miami, Little Havana, Miami Beach, and Fort Lauderdale. The health center provides comprehensive health and support services to address the full healthcare needs of South Florida's pediatric, adolescent, and adult populations. 
*Drug overdose mortality by State. (2022, March 1) Centers for Disease Control and Prevention.