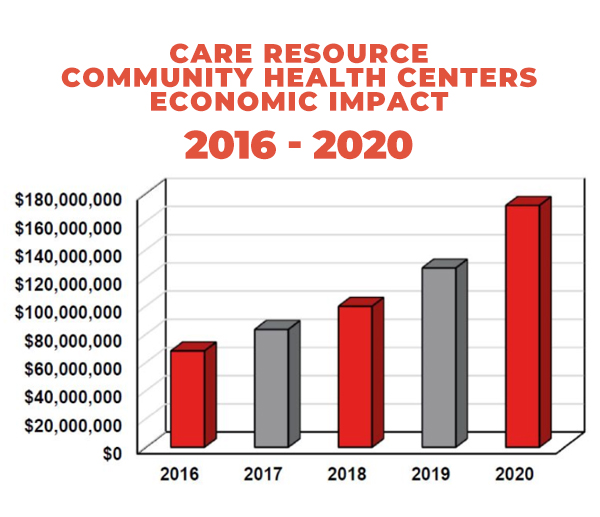 MIAMI, FL. (AUGUST 2021) – The Florida Association of Community Health Centers (FACHC) determined that despite the COVID-19 pandemic, the overall estimated economic impact of Care Resource in 2020 was $171.5 million, an increase of roughly 35% over 2019's impact of $127.1 million. For each $1.00 invested in Care Resource, there was an additional return on investment of 183%.
Care Resource also continued to act as a valuable employer, accounting for 883 jobs in 2020. In addition to the 364 positions at the health center (direct jobs), the four locations also contributed to 519 additional indirect/induced jobs because of the activities of the health center and its staff through the re-spending of monies in the community at large.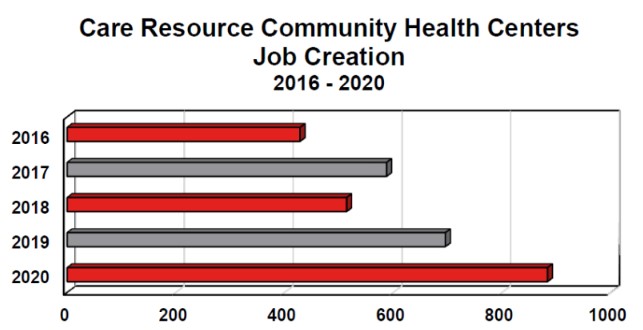 Care Resource continues to not only make a positive economic impact on South Florida's economy but also takes healthcare far beyond its usual definition by providing comprehensive preventive services and screenings, and a range of social support services to address the needs of the community's pediatric, adolescent, and adult populations with approaches that attend to the whole health needs of patients – physical, behavioral, and social.
About Care Resource:
Care Resource is a 501(c) (3) nonprofit organization and a Federally Qualified Health Center (FQHC) with four locations located in Midtown Miami, Little Havana, Miami Beach, and Fort Lauderdale. The health center provides affordable-high quality healthcare and support services to the most vulnerable and diverse medically underserved populations of South Florida.