Annual Toy Drive Makes a Difference in the Lives of Hundreds of Children and Families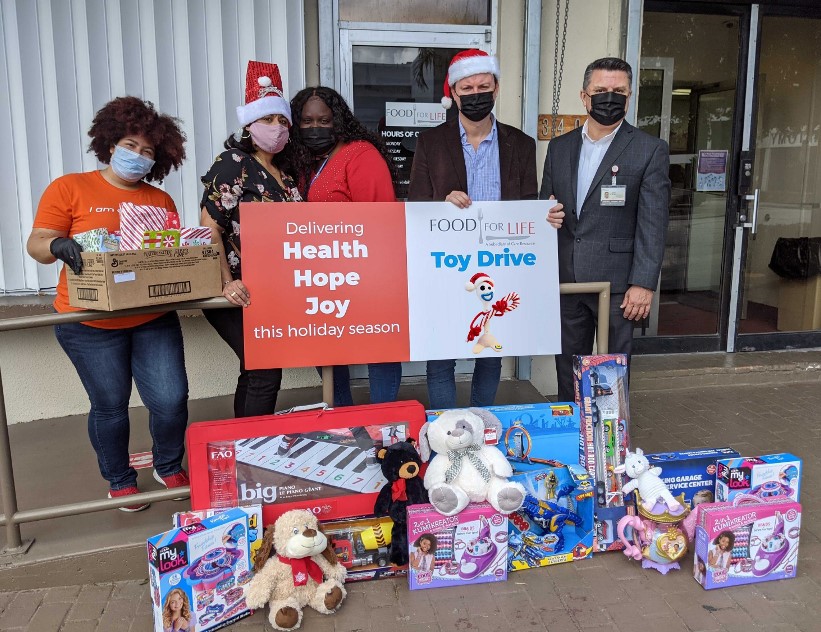 With the support of numerous individual donors, and in partnership with the Rotary Club of Miami, St. Stephen's Episcopal Church in Coconut Grove, and the City of North Miami, hundreds of toys and hygiene kits were collected and individually delivered to families throughout South Florida during Food For Life Network's and Care Resource's annual toy drive.
"The toy drive was more important than ever this year. With many families affected by COVID-19, some needed a little extra support to make their holiday joyous and bright. Our toy drive is an annual commitment to our patients." – Rafael Jimenez, Director of Social Services
Donor support for the Food For Life Network's food pantry has increased over 3,588% in 2020. This increased support has aided in ensuring continued access to nutritional resources, both during and beyond the pandemic. We sincerely thank all the people who supported the pantry's efforts, donated, and help bring a smile to a child's face this holiday season.
About Food For Life Network:
Food For Life Network, Inc. is a 501(c)(3) non-profit organization founded in 1987 that provides and delivers groceries, meals, and nutritional education to eliminate food insecurity and malnutrition in men, women, and children living with chronic illnesses in Miami-Dade County. To learn more, visit foodforlifenetwork.org.
About Care Resource:
Care Resource is a 501(c) (3) nonprofit organization and a Federally Qualified Health Center (FQHC) with four locations in Midtown Miami, Little Havana, Miami Beach, and Fort Lauderdale. The health center provides comprehensive health and support services to address the full health care needs of South Florida's pediatric, adolescent, and adult populations.