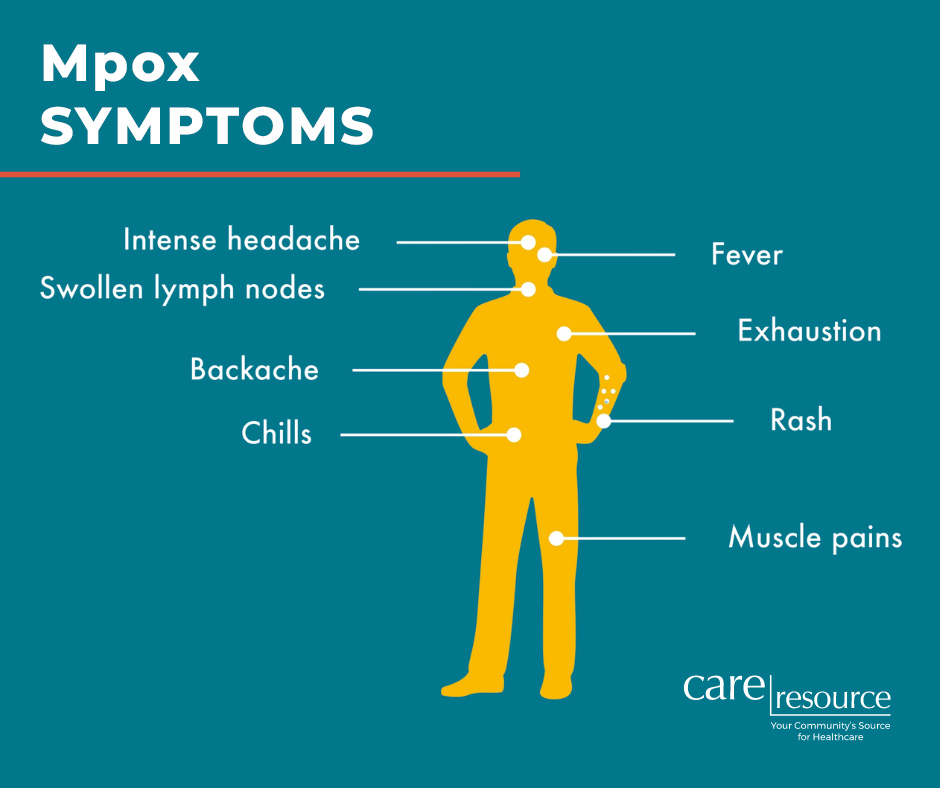 Vaccinations
For Mpox (AKA Monkeypox) vaccinations in Miami Dade County, click on the box below. For appointments at any Care Resource location, please call 305-576-1234, (English #470, Spanish #471, Creole #124)
Testing and Treatment for Mpox
Care Resource is providing testing, treatment (TPOXX), and vaccinations for Mpox (JYNNEOS), and has a limited supply for new and high-risk patients of our health centers.
Patients concerned about symptoms or exposure may schedule an appointment with their Care Resource Medical Provider.
Who is considered high-risk? 
Individuals that have been identified by public health officials through case investigation, contact tracing, and risk exposure assessments

Individuals that may have had a close physical or sexual partner /contact in the past 14 days was diagnosed, or suspected of having Mpox

Individuals that have had multiple sexual partners in the past 14 days in a jurisdiction with known Mpox
The Mpox vaccine is currently being administered by appointment only to scheduled patients as ordered by their Medical Provider.
New patients seeking testing and treatment for Mpox must first pre-register online
here
New and existing patients seeking an Mpox vaccine ONLY, may call our appointment line at 305-576-1234 (English #470, Spanish #471, Creole #124)
What is Mpox? (AKA Monkeypox)
Mpox is a disease that can make you sick, including a rash, which may look like pimples or blisters, often with an earlier flu-like illness. Mpox can spread to anyone through close, personal, often skin-to-skin contact. In fact, a rave, party, or club where there is minimal clothing and where there is direct, personal, often skin-to-skin contact has some risk.
"Human-to-human transmission of Mpox occurs by direct contact with lesion material or from exposure to respiratory secretions. Reports of human-to-human transmission describe close contact with an infectious person. Transmission in healthcare settings has been rarely described. Transmission of Mpox requires prolonged close contact with a symptomatic individual." Steven Santiago, MD, Chief Medical Officer.
Some Mpox symptoms include a fever, headache, muscle aches and backache, swollen lymph nodes, chills, or exhaustion. Within 1-3 days of these symptoms beginning, people develop a rash or sores. Mpox can be spread from the time symptoms start until all sores, including scabs, have healed and a fresh layer of skin has formed.
"To help reduce the spread of Mpox, it is important to practice good hand hygiene and use appropriate personal protective equipment to protect household members if ill or caring for ill persons at home. If one has a new or unexplained rash, sores, or other symptoms, it is important that they avoid sex or being intimate with anyone until they have been checked out by their Care Resource provider." Sheryl Zayas, MD, Medical Director.
More information about JYNNEOS:
JYNNEOS is the vaccine indicated for prevention of smallpox and Mpox in adults 18 years of age and older determined to be at high-risk for smallpox or Mpox infection. Two doses of JYNNEOS are required, as this is the only FDA-approved dosing regimen.
JYNNEOS has been evaluated in clinical studies involving people with HIV infection and atopic dermatitis and shown to be safe and effective in eliciting an immune response in these populations.  People who receive JYNNEOS are considered to reach maximum immunity 14 days after their second dose (6 weeks from first dose). They should continue to take precautions against monkeypox during this time.  JYNNEOS may be given as standard pre-exposure prophylaxis (PrEP) and post-exposure prophylaxis (PEP).
More information about MPX from the CDC:
About Care Resource:
Care Resource is a 501(c) (3) nonprofit organization and a Federally Qualified Health Center (FQHC) with four locations in Midtown Miami, Little Havana, Miami Beach, and Fort Lauderdale. The health center provides comprehensive health and support services to address the full health care needs of South Florida's pediatric, adolescent, and adult populations.