Access PrEP your way
PrEP is a once-daily pill regimen that is 99% effective at preventing HIV.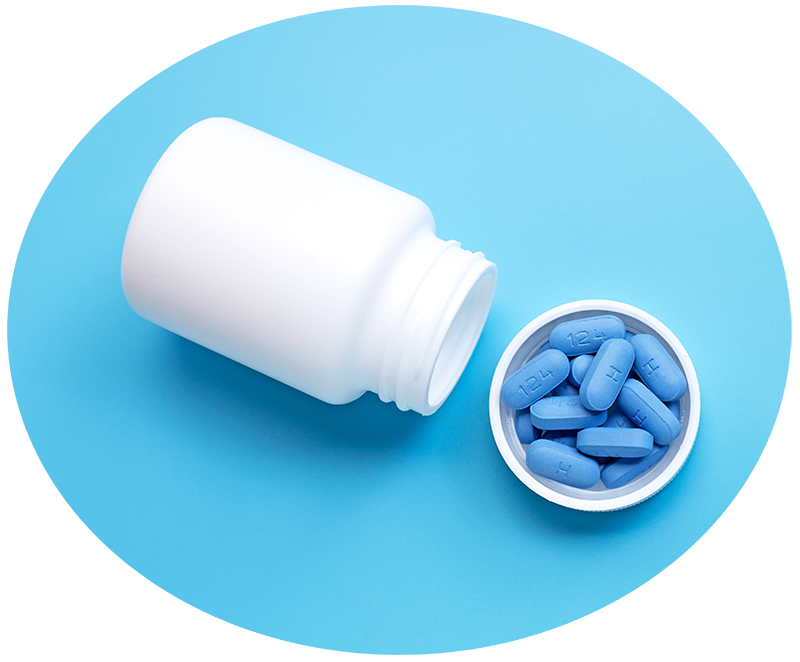 Our process is simple and easy with little or no out-of-pocket costs.
PrEP prescribed online and delivered to your door.
Know the facts
PrEP (Pre-Exposure Prophylaxis) is a daily pill
PrEP is over 99% effective at preventing HIV
Requires lab tests – you can now easily do them yourself at home
PrEP is for HIV-negative people of any gender or sexual orientation who want to take charge of their HIV prevention
The PrEP@Home Process:
1. Complete our questionnaire
Answer a simple questionnaire about your health history. Our PrEP team will reach out to you to complete the process. In some cases, you may require additional in-person lab testing.*
2. Self-test at home
If you qualify, our lab partner will mail you a discreetly packaged HIV/STI and metabolic panel at-home test kit. You collect the samples as instructed and mail them back to the lab for screening, using the prepaid envelope.
3. Visit with our provider via telehealth
Once your results are ready, our medical provider will determine if PrEP is right for you.
4. Your medication is delivered fast and discreet
Your medication will be shipped discreetly from the pharmacy to your house.
5. Renew, repeat
Our PrEP team will contact you to renew your prescription, and send out new labs.
* If you've ever been diagnosed with Hepatitis B or syphilis, you need to have actual lab blood draws, and the at home labs are not right for you.
The kit you receive will provide basic testing to determine your eligibility for PrEP. In some cases, your provider may require comprehensive testing which needs to be completed in-person.
PrEP@Home is only for adults 18+ Y.O. who are currently not living with HIV.
In order to get your prescription, you'll need to first be screened for HIV and get some other lab work done as well.
To continue PrEP, you'll need to have these tests done every three months.
We've made this easy with our no cost PrEP@Home test kits.
ABOUT OUR ACCREDITED
PARTNER LAB
Your PrEP@Home home tests will be analyzed at our partner laboratory, Binx™. Binx is a state-of-the-art lab that specializes in complex molecular testing and is CAP-accredited, meaning that it meets the scientifically rigorous standards of the College of American Pathologists.
Binx is also CLIA-approved, achieving the US government's standards of quality and safety under the Clinical Laboratory Improvement Amendments. Your personal information is always anonymized and your personal health information is protected according to HIPAA law.
On the subject of cost
Whether you have insurance or not, our PrEP teams will help you get PrEP at little or no cost.
Ready to get started? Answer a few question below to see if you qualify.
To ensure the medication we prescribe is safe for you, please answer honestly the following few questions. Your answers are confidential and only used to make sure this prescription and care is right for you. The telehealth session we provide should not be considered a replacement for a primary care relationship or annual physical wellness exam. We encourage you to see your health provider at least once a year.