Choosing Resilience After a Pandemic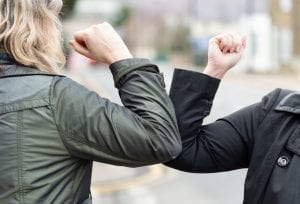 Whether COVID-19 kept us in our homes sheltering in place, or at workplaces that quickly adapted to social distancing guidelines, the pandemic changed our daily lives. However, we witnessed our peers, co-workers, friends, and family members choose strength in the face of an altered landscape.
During this time, we learned how to stay connected with our loved ones while adhering to social distancing. We developed creative ways to keep in touch, maintaining bonds with positive people who helped us remain calm and boosted our sense of wellness throughout trying times. We became more vigilant of our health hygiene practices and committed to wearing facemasks when we had to enter public spaces. Furthermore, we became accustomed to life defined by a pandemic and the measures implemented by community and federal actors in order to confront it.
Now, as various businesses, gyms, and public spaces open once more, our team at Care Resource encourages our community members to reintegrate into the "new normal," while incorporating lessons learned during the quarantine. It is best to re-enter society in a manner reflective of the still-present risk of COVID-19 transmission.
Additionally, Dr. Lilianna Vázquez-Rivera, Primary Care Physician at Care Resource reminds us to continue the use of face masks when in public spaces. She suggests that we meet up with friends and family with whom we share the same thoughts on social distancing, avoiding close contact with those who may not have been adhering to the same guidelines. Commitment to these measures reflects the lessons we learned during quarantine, ones that we know are indispensable to our safety even now.
"These COVID-19 statistics are not just numbers. They represent actual people who have been affected by COVID-19. We all want to go out and enjoy the summer but remember, being healthy doesn't mean you are immune to COVID-19. It does not discriminate and we want to do our part in reducing transmission."- Dr. Vázquez-Rivera
At Care Resource, we are offering telehealth visits to evaluate patients for COVID-19 after which we may make a referral for COVID-19 testing at our Little Havana and Ft. Lauderdale health centers. As we return to the "new normal," our health center is ensuring that quality and affordable healthcare remains a part of all of our realities.