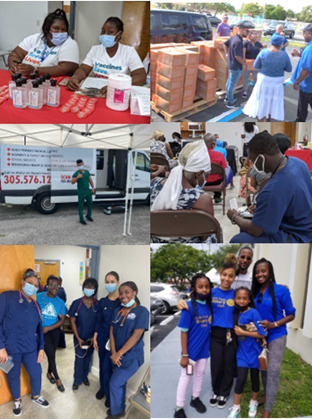 On Saturday, June 12, Care Resource in collaboration with Athenahealth, the Association of Exchange and Development of Activities & Partnerships, and Eclair Football Club joined forces at South Miami Heights Haitian Baptist Emmanuel Church to expand COVID-19 vaccinations and HIV testing efforts.
During the event, thirty-six individuals were vaccinated, and nine HIV tests were performed. In addition, Athenahealth provided 200 boxes of fresh fruits and vegetables to attendees to aid with food-assistance needs. 
According to Jairo Farinas, Health Promotion & Prevention Field Supervisor, "The pandemic has really demonstrated just how much systemic barriers to access not only affect those wanting HIV testing, but also those wanting the COVID-19 vaccine. Now is the time to double-down and fight these barriers that are keeping communities from being vaccinated. The provision of HIV testing and COVID‐19 vaccinations at a single site is a model for how we might maintain the ability to test and diagnose people with HIV during the pandemic, thereby making it possible to engage community members in treatment and prevent ongoing transmission of HIV while also providing community members an access point for the COVID-19 vaccine."
Care Resource is currently offering the Pfizer vaccines for individuals 12 years of age and older, and Johnson & Johnson vaccines for individuals 18 years of age and older. There is no-cost and no out-of-pocket expense to receive a vaccine. Click here to make an appointment.
The health center has also expanded HIV testing to ensure that community members can still receive essential services while adhering to social distancing recommendations. Individuals 17 and older who have not tested positive for HIV or tested in the past three months can access an at-home HIV test. Click here for an at-home HIV test.
Care Resource is committed to providing the COVID-19 vaccine to as many members of our communities as possible as quickly and safely as possible. May this effort help lead toward that long-awaited moment of joining back together, safely and joyfully