Ending the HIV/AIDS Epidemic: Resilience and Impact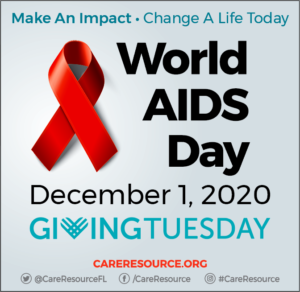 While our health center has mobilized our resources and attention in response to the COVID-19 pandemic, we have not lost sight of the end of the HIV epidemic. This World AIDS Day (WAD), Care Resource affirms commitment to the nation's plan of Ending the HIV Epidemic by 2030. This initiative focuses resources on communities most affected by HIV, including Miami-Dade and Broward counties.
According to The Southern AIDS Coalition (SAC), the Southern region of the United States cites 52% of the nation's undiagnosed HIV infections. Today, 44% of all people living with HIV were diagnosed in the South. These statistics serve to further motivate Care Resource to provide HIV prevention and treatment options to under-resourced communities within South Florida.
As a Federally Qualified Healthcare Center (FQHC), Care Resource works locally to have a national impact. The health center introduced a no-cost, at-home HIV testing program for individuals within Miami-Dade and Broward counties. It is essential to ensure access to HIV prevention, especially during this pandemic.
Care Resource responds to patients living with HIV/AIDS whose needs have been grown more urgent due to COVID-19. Housing is healthcare: a secure living environment can greatly affect a person's physical and behavioral outcomes. The health center provides rent, mortgage, and utility assistance to these individuals, ensuring their access to safe and steady housing. This Giving Tuesday, please support our Emergency Assistance Fund, a lifeline for those who could lose their housing when the CDC Eviction Moratorium ends on January 1, 2021.
On November 30, 2020, and in honor of WAD, Care Resource's Health Promotion Services team will join a caravan parade beginning and ending at Olinda Park in Liberty City, Miami, in order to encourage HIV testing. The health center is dedicated to performing outreach in all communities, connecting with hard-to-reach populations and ensuring their access to HIV/AIDS testing and care.
On December 4, the health center encourages all to join another Facebook Live episode of the Health Connection as they discuss "The State of HIV." The show airs on facebook.com/CareResource at 1:00 pm EST.
This WAD, the health center celebrates the resilience of communities affected by HIV/AIDS and remains committed to its local impact on health outcomes.
About Care Resource:
Care Resource is a 501(c) (3) nonprofit organization and a Federally Qualified Health Center (FQHC) with four locations in Midtown Miami, Little Havana, Miami Beach, and Fort Lauderdale. The health center provides comprehensive health and support services to address the full health care needs of South Florida's pediatric, adolescent, and adult populations.